Go back to news
Thunder Hockey Close Out Fall Semester with a SAIT Showdown
Posted on: Nov 28, 2016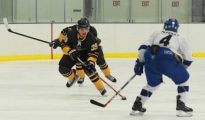 This weekend the Thunder closed the first half of the season with a pair of games against the SAIT Trojans. Friday night in Calgary, the Thunder fell behind early but struck twice late in the first period with goals by Phil Dillon and Rory Davidson to tie the game at 2. In the second the Thunder fell behind again but were pulled close by Rory Davidson's second of the game and only trailed 4 to 3 headed into the third. Unfortunately the Thunder fell into penalty trouble in the final frame and fell by a final score of 7 to 3.
Saturday night the Thunder looked to bounce back at home. A pair of shorthanded goals by the Trojans had them ahead by 2 once again. The Thunder eventually got goals from Dallas McIntosh and David Randall to pull within 1 but could not find a way to tie the game and eventually fell 3 to 2 to the Trojans.
The Thunder look forward to some time off and will return to the ice healthy and rested when they host the MacEwan Griffins on January 6 to begin their push to the playoffs.