Go back to news
Thunder Golf Show Well at ACAC Championships
Posted on: Oct 3, 2016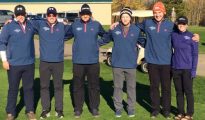 The Thunder Golf team competed in the ACAC Championships this past weekend, hosted by Portage College in Lac La Biche. On Day 1, the conditions were wet and cold but the Thunder battled through the day. Concordia's star female golfer Kassidy Turcotte was sitting in a tie for third place after shooting 89. The Thunder low guy after Day 1 was third year veteran Connor Beeston, who shot an 83 and was in a tie for 10th place.
On Day 2 the Thunder team once again braved the cold and came out with great results. Connor Beeston shot another 83 and finished in a tie for 12th. "Connor actually played very well the 2nd day, but just had a couple unfortunate holes that hurt him," commented Head Coach Kevin MacAlpine. The Men's team – comprised of Connor Beeston, Michael Lastiwka, Connor Dobberthien and Dylan Brown – finished in 5th place. The highlight from the weekend was Kassidy Turcotte's fourth place finish, which could give her the chance to qualify for Nationals in Charlottetown, PEI.
"Overall it was another great season for the Thunder Golfers," enthused Coach MacAlpine. "All are expected back next year which is exciting for the program!"