Go back to news
Thunder Badminton Haul in the Medals at ACAC Championships
Posted on: Feb 22, 2016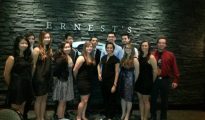 The Thunder Badminton team had a very strong showing in the ACAC Championships this past weekend, held at NAIT. The event got started out on the right foot with the ACAC Championship Banquet being held on Friday night wherein the Thunder had Calvin Siu, Rachael Smillie and Takeisha Wang all receive honours as ACAC All Conference athletes. The awards did not stop there for Takeisha. The Coaches from all the ACAC Badminton Schools chose her as the Female Badminton Player of the year.
On Saturday, the attention focused on the Badminton court with Men's and Women's Doubles getting underway first. DShant Sharma and Calvin Siu lost a close final to a strong NAIT Ooks team 21-15 and 21-14. "Overall they played very well and I think they continue to get better and better and hopefully (will) peak at Nationals," stated proud Head Coach Kevin MacAlpine. Takeisha Wang and Rachael Smillie also came up against a very strong NAIT team in their final. "They did not have their best game and have a lot of work to do in the next couple weeks but are looking to reverse the result on the Nationals stage." Rachael Smillie was last year's 2015 ACAC Women's Singles Champion and she claimed a Silver Medal at Nationals. Takeisha Wang is a first year player for the Thunder who has dominated the Women's side in all events in the ACAC this year. Lindsay Ross and Alysha Dyck also played very well winning the Bronze medal in Women's Doubles over a team from Olds.
Next up was the Singles competition. The Thunder had graduating player Lindsay Ross taking Silver in the Women's side, losing in the final to an athlete from Olds College 21-15 and 21-11. Lindsay also qualified last year for Nationals and the Thunder are is hoping that she can improve on her 5th place finish from last year and end her career in the ACAC on a high note. The last event of the day was Mixed Doubles wherein Concordia had graduating players – and future teachers – Kirk Sundt and Alysha Berkner win a Bronze Medal. "It was a great way for them to end their ACAC careers," said MacAlpine. "Alysha played all 4 years on the Badminton team with Kirk coning aboard just this year. Kirk is a very high level runner on the Thunder Cross Country team and decided to come out for Badminton this year, too. The improvement he made was incredible." In the overall team competition, the Thunder finished in 2nd place behind the powerhouse NAIT Ooks.
Overall the Thunder captured 3 Silvers and 2 Bronze Medals at the Championships and will be sending 5 players to Nationals. This year, the CCAA National Championships are being held at Vancouver Island University in Nanaimo, BC from March 1st -5th. Good Luck Thunder!