Go back to news
The Inquiring Mind
Posted on: Oct 1, 2021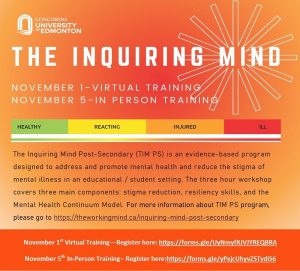 The Inquiring Mind Post-Secondary (TIM PS) is an evidence-based program designed to address and promote mental health and  reduce the stigma of mental illness in an educational / student    setting.
The 3-hour workshop was created with the input of students, faculty and staff, from the University of Calgary, with mental health-related expertise.The workshop covers three main components: stigma reduction, resiliency skills, and the Mental Health Continuum Model.
For more information, please go to the website.
To register for the November 1st  virtual training
To register for November 5th  in-person training