Go back to news
The impactful mentor-student relationship at CUE
Posted on: Nov 21, 2022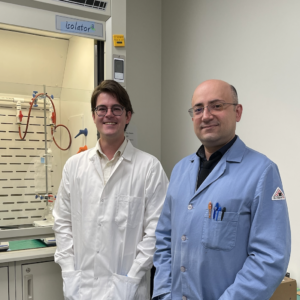 At CUE, students have the unique opportunity to engage with expert researchers directly; a rare occurrence at larger institutions that sets CUE apart, making it the ideal environment for mentorship that can have a lifelong impact.
Both Cole Babcock, a 4th-year chemistry student, and his mentor, Dr. Makan Golizeh, Assistant Professor of Analytical Chemistry, are an example of a mentorship that has been a force for discovery and innovation.
When a CUE chemistry student comes along that has an amazing gift for research, Makan sees that talent and thrives on helping that future chemist "find their inner fire." 
The relationship between Cole and Makan has flourished because they have so much in common, as Makan says, "I see so much of myself in Cole, that drive, passion and dedication to research."
Cole's dedication and discipline may stem from his background in ballet. Cole was a professional ballet dancer who performed with Toy Guns Dance Theatre in Edmonton, as well as performing in the Nutcracker with the The National Ballet of Canada. 
"This level of commitment and quality of research is unique (but not uncommon) at an undergraduate level," says Makan, his research supervisor for the past two years. "Cole has been phenomenal at generating ideas that can lead to funding and already has that level of confidence because of his past research successes."
CUE faculty help students find their passion
Coming from a ballet background, Cole was not immediately sure science and research would be his path in life. "I always had an interest in science growing up on the farm; we had a lot of freedom to build and create things. When I was in grade three I made a potato gun – we had a lot of room to do things like that." 
But, it wasn't until going to CUE that Cole reignited that love for science. "Because my focus had been on being a professional ballet dancer, I lacked the core studies needed to go into science and had to initially take the prerequisites and high school equivalents needed," he explained.
The passion and mentorship of professors, like Makan, helped Cole find his purpose, which is exactly what Makan believes is the role of a research supervisor. 
"My job is to train students to find their aspiration, I give them guidance where needed, but students need the freedom to brainstorm and develop their ideas. My philosophy is: I don't just teach chemistry, I help students become chemists." – Makan.
A hand-built laboratory in Wainwright 
Cole's level of productivity is also, in part, because he has built his very own lab in his hometown of Wainwright, a 2.5 hour drive from campus. "My dad was a cabinet maker and has a woodworking shop. I asked if I could use part of the space to build a lab for my research, and thankfully he agreed," says Cole. After classes end on Friday, Cole will drive home and go to work in the lab until Sunday.
When students were asked to study from home during the height of the pandemic, Cole expanded his lab. With Makan's support, Cole connected with a few government agencies to get started"There were some legal hoops for Cole to jump through to have his own private lab; he had to check with federal and provincial authorities, and ensure that no safety concerns were overlooked. Cole discussed these matters with his attorney, and a short while later was the owner of a licensed corporation," Makan explained.
This is quite unique for any student, let alone at the undergraduate level. Although building your own lab is not usually recommended, Cole's tenacity and drive are undoubtedly commendable.
A researcher is always learning
Makan describes Cole as curious and always thirsting for more knowledge, a characteristic of a great scientist. "The danger," Makan stresses, "is when someone thinks they know it all. A good researcher always seeks knowledge, wants to solve problems and is willing to step outside their comfort zone. Cole has taken on new and challenging tasks. It wasn't easy for him, but he embraced the challenge. Cole has the capacity to really understand the intricacies of his research, because he studies his subject well."
"Makan is always open to sharing ideas with me and helps me sort through work-related issues. When an experiment is not working, he sits with me, pinpoints what went wrong, and helps me get back on track," Cole says of Makan's guidance.
"Several CUE members noted that Cole's scientific growth became exponential after meeting Makan. The right mentor and encouragement can make all the difference", said Dr. Carla Craveiro Salvado, Associate Vice-President, Research at CUE. She was impressed with Cole from the moment they met: "Cole's passion for science and research was clearly evident the moment I met him. More impressive was the support and mutual respect Cole and Makan have for each other. These are the types of mentor-student relationships that make CUE a unique and perfect environment for others who seek personalized support and attention."
The student-professor relationship is the CUE advantage
Cole and Makan developed such a productive dynamic partly due to small class sizes, allowing for daily student-professor interactions at CUE.
"At larger institutions, undergraduate students rarely have the opportunity to work directly with professors," says Makan. "Undergraduate research is normally supervised by graduate students or postdoctoral fellows. It can be difficult for undergraduate students to discuss their ideas, let alone work directly with professors." 
"One huge advantage of studying at CUE is that students are directly trained by professors, who have years of experience in teaching and/or research. At larger institutions, talents like Cole have a smaller chance of being discovered." – Makan
Innovation, connections, and networking
Research and development at CUE has seen remarkable growth in recent years, and Makan believes that is "because CUE faculty members have a real passion for teaching and mentorship". Research at CUE has also become a priority, with student-integration in research programs. "As a small institution, we have achieved some amazing results in research and I believe that is also due to the excellent support from the Office of Research." 
The Office of Research helps students and faculty with funding applications, promotion of research events, such as the Research Forum and the Student Research Café, and development of strong research networks.
"Connections in the world of research are crucial. Cole describes Makan as vital in helping him build a network, and connections at other institutions, such as McGill University, where Cole has been sought out to partner in research projects. 
At CUE we know the importance of networking, which is why the Office of Research is strategically increasing the number of opportunities for students to network throughout the year. The Office of Research is always seeking new funding opportunities to support students like Cole in their research endeavors, as they train and become our promising future. 
Watch Cole in action teaching CTV journalist, Emily Olsen, an experiment on CTV Morning Live – November 21, 2022.