Go back to news
Takeisha Wang Earns Silver Medal in Final CCAA Championship
Posted on: Mar 12, 2020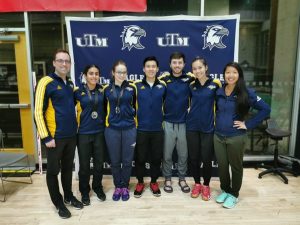 The Concordia Thunder had an excellent start to the 2020 CCAA Badminton Championships hosted by University of Toronto Mississauga as Takeisha Wang was named the CCAA female player of the year, and head coach Kevin MacAlpine was named CCAA coach of the year. On championship Saturday Concordia had an opportunity to claim three CCAA medals however would end up coming home with two CCAA silver medals!
Heading into the CCAA Badminton Championships, the CCAA female player of the year, Takeisha Wang was the talk of the tournament as the 5th year two time CCAA champion was the favourite to win the women's singles gold medal, however, after being upset by Huyen Lee of George Brown College everyone was anticipating a rematch in the gold medal round. Takeisha managed to defeat Ahn Hoang of George Brown College 21-18, 21-6 in the semi-finals to give everyone the rematch they wanted. This one was a exciting match to watch as both Takeisha and Huyen had incredible rallies right from the beginning. Takeisha would take the first game 21-18 but Huyen would rally back to win the next two games 21-15, 21-18 to win the CCAA gold medal. As Takeisha's CCAA career has come to an end she will have collected a total of 2 gold, 2 silver and 1 CCAA bronze medal. Congratulations Takeisha on a successful season and Thunder career.
After finishing the round robin with a 4-1 record and defeating the NAIT Ooks in the semi-finals, the Thunder women's doubles duo composed of rookies Jasleen Kaur and Johnna Rymes would find themselves in the gold medal match against the undefeated Humber College pairing. Concordia was the underdog heading into this battle but they put up a good fight as they would lose 21-18, 21-14 to claim the CCAA silver medal.
In the men's doubles event, Braxton Wong and Nicolas Pittman had an excellent tournament having gone 4-1 in the round robin. After losing a heartbreaking semi-final match, the Thunder duo found themselves in the Bronze medal match where they would fall short to Humber College 21-8, 17-21, 21-17 and finish the tournament in 4th place.
Congratulations to all athletes on an incredible season and for representing Concordia University of Edmonton proudly at the CCAA badminton championships!