Go back to news
Starting Today! Take A Walk Through Time
Posted on: Apr 9, 2021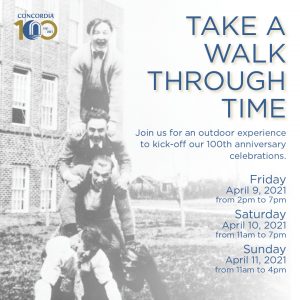 Please join us on April 9, 10, and 11 for an outdoor experience showcasing our history to kick-off our 100th anniversary celebrations. Our walk through time will focus on our land, which was used as a trading a gathering place for the Cree, Dene, Nakota Sioux, Blackfoot, and Métis peoples, our beginnings, and our evolution into a leading post-secondary institution.
This experience has been planned in accordance with public health protocols, and we have pre-recorded performances from our students that will be shown on screens to bring our story to life. These performances include a musical selection, and a CUE Cabaret. There will also be a showing of a brief film on our history—the full version film will be released in the near future.
Details
Friday, April 9, 2021 from 2pm to 7pm
Saturday, April 10, 2021 from 11am to 7pm
Sunday, April 11, 2021 from 11am to 4pm
For more information and a detailed list of our COVID-19 protocols, please visit:  https://concordia.ab.ca/cue100/take-a-walk-through-time/.