Go back to news
Tai Chi class in Winter 2021
Posted on: Jan 6, 2021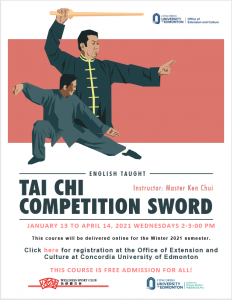 We hope that our Tai Chi classmates have been doing well during the holidays and wish everyone a very Happy New Year! Per Government of Alberta and CUE COVID-19 Campus Guidelines, our Tai Chi class will be delivered online for the beginning of the Winter 2021 semester but may be able to meet once again in person, on campus, if permitted. We will keep students posted through Moodle if there are any location changes. 
Practising Tai Chi can bring a lot physical and mental health benefits such as: decreasing stress, alleviating symptoms of anxiety and depression, help to improve mood, assist in increasing aerobic capacity, energy, and stamina, as well as help to increase muscle strength and definition, and improve flexibility, balance, and agility.
This coming Winter 2021 season Tai Chi Quan and Tai Chi Competition Sword practices will be offered as part of the Tai Chi course.
Location: Online (subject to change)
Time: Wednesdays, January 13th – April 14th , 2021 from 2:00-3:00 pm
This course is free admission for all!
CUE faculty, staff, and students can register using your CUE login and password information, and by choosing "Extension & Culture Courses" and "2021 Winter term" using the Online Course Selector. The course code for Tai Chi is X-CHN 91 under Extension Chinese.
For community registration and more information, please click here.
As a reminder, all campus visitors will be required to wear masks, to observe 2m social distancing requirements, and follow all of the University's Protocols for On-Campus Attendance. Please feel free to contact us at extension@concordia.ab.ca for more information.
We look forward to seeing you in class!