Go back to news
Successful Staff Association Retreat!
Posted on: Jun 7, 2017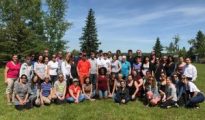 Thank you to everyone that came out to our Annual Staff Association Retreat at Moonlight Bay. We had a great day filled with professional development and fun in the sun!
Special thanks to our presenters Dr. Tim Loreman, Dr. Valerie Henitiuk, Dr. Barbara van Ingen, Erin Jacula, Philipa Hardy and Dan Mirau. Also, thank you to everyone on the Executive and those apart of the Retreat Committee that helped make this day happen.