Go back to news
Student entrepreneur, Irshad Shariff, makes CUE history!
Posted on: Jul 18, 2017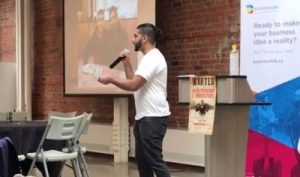 15 of Alberta's most promising student entrepreneurs gathered in Calgary, from July 10-14, to compete in a province-wide business pitch competition.
The CIAR is pleased to announce that CUE's student entrepreneur, Irshad Shariff representing his company Craft Tapp, won his division and placed within the top 5 student entrepreneurs in the province of Alberta.
Irshad had this to say: "Not only do I appreciate all the support, but also the mentorship, in helping me as a young entrepreneur and believing in my company. You have all helped me in some way and I want to say thank you for everything."
CUE congratulates Irshad on this tremendous accomplishment and wishes him continued success as his company grows. The CIAR will continue to provide support for Irshad in the form of business incubation space and mentorship.
Stay tuned for more updates as Irshad's exciting entrepreneurship journey continues to unfold.