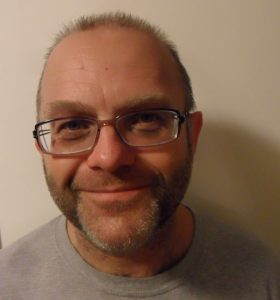 DAVE CLARKE
Dave is a musician and sound designer based in Edmonton, Alberta since 1991. Educated at the University of London and the University of Leeds, he has composed and produced music and sound designs for over 500 projects in theatre, film, dance and multi-media for three decades. Dave has worked for many theatre companies across western Canada, and has taught audio production at the University of Alberta since 2007. Dave has presented his Audio Lab to hundreds of young people at the St. Albert International Children's Festival since 2012; the Audio Lab is an interactive class centred on creating music and sound effects for use in storytelling. Dave is also the musician and sound designer for Concrete Theatre's long-running Sprouts New Play Festival For Kids.
Recent selected designs include Space//Space, 6.0 Heap & Pebble and The Ecstatics (Northern Light Theatre), The Ugly One (Kill Your Television Theatre), The Mountaintop (Theatre Calgary), Trunk Puppet (Old Trout Puppet Workshop), Elephant Song (Green Fools), Working It Out (Workers' Health Centre),  Routes and I Am For You (Concrete Theatre), and The Taming Of The Shrew (Free Will).
Dave has received many awards, including an Alberta Motion Picture Industry Award for best sound, and Sterlings (Edmonton Theatre Awards) for outstanding original music, sound design and musical direction. Dave is the child of deaf parents, and is working on a family musical on the subject called Songs My Mother Never Sung Me. He is also the sound guy for CBC Radio's The Irrelevant Show.