Go back to news
St Jerome Celebration of Translation: Saturday, September 30, 2017
Posted on: Sep 11, 2017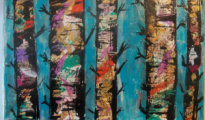 All are welcome to the 15th annual St Jerome Celebration of Translation, on Saturday, September 30 at CUE.
The theme this year is "Translation and Truth," with a focus on Indigenous texts and traditions. 
This conference includes a key panel dealing with language revitalization, featuring Dr. Sarah Shulist (a linguistic anthropologist at MacEwan University who works on the Indigenous languages of Brazil); Darrell Anderson (who, through his consultancy Osaw Maskwa, promotes the Cree language); and Maria Campbell (Metis Elder and author of many works, including the 1973 classic Halfbreed).
On the afternoon preceding the scholarly gathering, there will also be a series of readings by translators from their work in various languages. Honoured guests include Inuk Elder Mini Aodla Freeman (author of Life Among the Qallunaat) and Papaschase Chief Calvin Bruneau.
This conference is supported by CUE's Internal Grants Fund.