Go back to news
SSHRC Insight Development Grant awarded to Concordia University of Edmonton historian
Posted on: Nov 15, 2017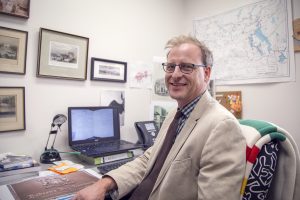 Dr. Tolly Bradford, Associate Professor of History, has been awarded a Social Sciences and Humanities Research Council (SSHRC) grant for a novel project focused on understanding the global and imperial dimensions of the Hudson's Bay Company (HBC), Canada's oldest corporation.
The federal granting agency announced this year's awards for post-secondary researchers from across Canada today. Professor Bradford and his co-investigator Dr. Richard Connors from the University of Ottawa received the SSHRC Insight Development Grant for early stage research that focuses on new questions, methods and approaches in the social sciences and humanities.
"In awarding Dr. Tolly Bradford this grant, SSHRC has recognized his exemplary scholarship and his potential to develop an even more significant ongoing program of historical research," says President Tim Loreman. "I extend my congratulations and thanks to Dr. Bradford for his leadership and support of our scholarly culture here at Concordia."
Drawing on archival material from Canada and Britain, the researchers will examine how the policies and practices of the HBC were informed by seemingly distant and disconnected forces such as slavery in the Caribbean and the expansion of the British East India Company in Asia.
"Traditionally, historians have researched and written about the HBC as a regional or Canadian institution concerned with the local economics of the fur trade," explains Professor Bradford. "In linking HBC policy directly to these episodes of British Empire building, we hope to shed new light on the HBC's North American aspirations and its management of the fur trade in Western Canada. We often think of globalization as a relatively modern concept but the HBC is a terrific historical example of how a corporation's local actions were influenced by global activity."
The goal is to have much of the research completed by 2020 in time for the 350th anniversary of the HBC.
"We are very proud of Tolly Bradford's research efforts, which are being rewarded by this prestigious grant," says Dr. Valerie Henitiuk, Vice-President Academic & Provost. "It testifies to the seriousness and quality of Dr. Bradford's academic achievements and contributes to elevating Concordia's research profile. It is an inspiration to other faculty at CUE to pursue excellence in research and scholarly activity."
SSHRC's Insight Development Grants program supports research in its initial stages. The grants enable the development of new research questions, as well as experimentation with new methods, theoretical approaches and/or ideas.
For more information, please contact:
Sarawjeet Panesar
Marketing & Communications Specialist
sarawjeet.panesar@concordia.ab.ca
780-479-9347
www.concordia.ab.ca