Go back to news
Harry Potter Book & Bake Sale for the United Way
Posted on: Nov 14, 2017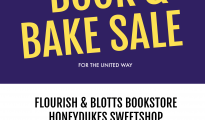 A Request for Books & Baked Goods
On Wednesday, November 22 the library will be selling books and baked goods in Tegler from 11 am – 1 pm.
All of the proceeds from these sales will be donated to the United Way. And because our Book & Bake Sale is taking place during the CSA's Harry Potter Week, we are incorporating the Harry Potter theme into our event.
To help us out, please consider donating books or baked goods to our fundraiser.
To donate baked goods or treats:
Baked goods can be dropped off at the library on November 22nd
Less perishable treats (such as candies or chocolates) can be dropped off earlier
Both homemade and store bought treats are welcome!

Harry

 

Potter

 themed treats are absolutely not required but are encouraged if you are feeling inclined to do so.
To donate books: