Go back to news
Spotlight Series: Teagan Kamstra
Posted on: Mar 23, 2021
Our Spotlight Series sheds light on members of the Concordia University of Edmonton (CUE) community who are making a difference locally, nationally, and globally. In this week's edition, we spoke to Teagan Kamstra, a senior student in the Department of Fine Arts who is currently preparing for her final recital.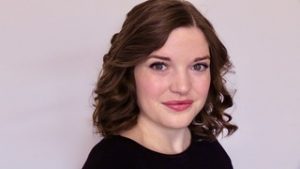 A lifelong artist who grew up performing for family and friends, Teagan Kamstra first discovered her love of music in high school after joining the choir and theatre program. It was there that she first met Jolaine Kerley, Assistant Professor of Music at Concordia University of Edmonton (CUE), who became a mentor and was the driving force behind her decision to enroll at CUE.
Teagan is currently in her final year at CUE and is preparing for her upcoming senior recital—a performance that was originally scheduled to take place in March 2020 but was cancelled due to the ongoing COVID-19 pandemic. Her recital will now take place in April and will be held in accordance with all public health protocols. After graduating this spring, she hopes to enter CUE's Faculty of Education. 
Your recital was originally scheduled to take place on March 21, 2020, and was cancelled due to the onset of the COVID-19 pandemic. What was that like?
Being a voice student, I had prepared a 45-minute program filled with pieces that I had been working on throughout the 2019-20 academic year. The program itself reflected all of the work that I had put in over the course of my four-year degree, and then, suddenly, we were forced to move to online learning a week before the recital. I still needed to present the program for a grade so I recorded it from home and sent it to my professors. It was a huge disappointment to put in so much work and not get a chance to perform.
The 2020-21 academic year has been filled with significant challenges. Tell us about your experience.
It has been really hard. I am a very social person and the Department of Fine Arts is such a tightknit group of people. The social aspect has definitely been the hardest part but there are also challenges being online like spotty internet, delays in sound, and other audio issues that make performing extremely difficult. It will never match performing in person. In addition to being a student, I also taught voice lessons, virtually, this year for the first time ever, which was quite the challenge.  
In addition to our institutional COVID-19 protocols and procedures, the fine arts have been impacted by other restrictions. What has that been like for you?
The biggest change for me was the cancellation of my recital. It was just not possible with the safety restrictions in place. As performers, we have had to be really creative in finding ways to do our art. The fine arts have had to navigate a number of extra safety protocols that other areas haven't had to consider like keeping audiences safe, performing while wearing masks, and the extra danger of contagions spreading while singing or playing instruments.
As you prepare for your upcoming recital, what are you most looking forward to?
I got approved to do a livestream recital a few weeks ago and I'm so excited. I'm most looking forward to being able to share my work with my loved ones and finally being able to have that celebration of my accomplishments.
How will your recital this year be different from what you prepared last year?
There are protocols in place this year to keep everyone safe and healthy. I am doing a livestream at a local church, and the only people who will be present are the professors grading me and my parents because they are members of my immediate household. I am preparing some of the same pieces as last year but also introducing some new ones. Another big difference is that last year I had planned to perform a duet with a friend from the program and we were very excited to sing together. That unfortunately can't happen this year but she has been so supportive and is very excited for me.
What is the best piece of advice you have been given over the past year?
I have received so much support and love from teachers and friends over the last year. This year has been really hard for everyone and so many people have lost things that were important to them. I am constantly reminded by my friends and family that no one is alone in this, and we've all come together to give one another the love and support in whatever way possible.
Teagan's story was recently featured by Radio-Canada Alberta. To watch and learn more, click here.