Go back to news
Spotlight Series: Dr. Valerie Henitiuk
Posted on: Feb 23, 2021
Our Spotlight Series sheds light on members of the Concordia University of Edmonton community who are making a difference locally, nationally, and globally. In this inaugural edition, we spoke to Dr. Valerie Henitiuk about her new book, "Hunter with Harpoon".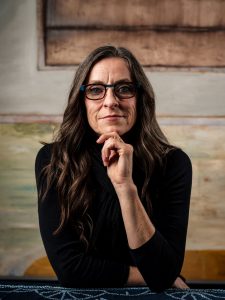 An award-winning and widely published scholar, Dr. Valerie Henitiuk joined Concordia University of Edmonton (CUE) as Vice-President Academic and Provost in May 2017. Prior to joining CUE, Dr. Henitiuk was a Professor of English and Executive Director of the Centre for the Advancement of Faculty Excellence at MacEwan University. Her research focuses on aspects of the intersection of translation studies, word literature, Inuit literature, Japanese literature, and women's writing.
In 2016, Dr. Henitiuk was awarded an Insight Development Grant by the Social Sciences and Humanities Research Council of Canada to conduct exploratory research on English and French translations of Inuit Literature, which led to a multi-year study of the writings of Markoosie Patsauq—a Canadian Inuk writer best known for Harpoon of the Hunter, the first Indigenous novel ever published in Canada. This text was initially written in Inuktitut syllabics and, although Patsauq himself created the English adaptation, he was given direction to arrange the text to be more palatable to non-Inuit audiences. Together with Patsauq and Marc-Antoine Mahieu (Université Laval and Institut national des langues et civilisations orientales [France]), Dr. Henitiuk revisited Patsauq's original Inuktitut manuscript and produced an updated translation—Hunter with Harpoon—that acknowledges and corrects past injustices. 
What first drew you to Patsauq's novel?
Oddly, it was actually a different "first Inuit novel" that first captured my attention: Sanaaq, by Mitiarjuk. Her text was in fact written before Markoosie's but not published until many decades later; it is also a very long and difficult text. Markoosie's work was shorter and thus easier for someone new to studying Inuktitut to wrap my brain around. Further, the journey taken by his novel is bound up with some of the most burning issues in Translation Studies and Comparative Literature, and his life intersected with virtually all of the important (often traumatic) episodes of 20th-century Inuit life in Canada. Since Markoosie's novel had never yet been rigorously translated—and certainly deserved to be–this became the focus of the research collaboration undertaken by Marc-Antoine and me.
What were some of the elements of the original Inuktitut text and its English translation that generated your interest in revisiting the story?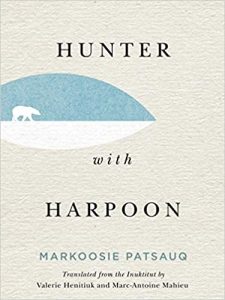 Markoosie's self-translation into English is a ground-breaking, foundational text. Thomas King identifies it as the beginnings of Indigenous literature in this country and it was received with great fanfare when first published in 1970—and yet it has been strangely sidelined. The research we did to contextualize our translation uncovered reviews in such venues as the Times Literary Supplement, published versions in a dozen different languages around the world, as well as a great many misperceptions. An examination of Markoosie's Inuktitut manuscript revealed that his initial conception of the story was quite different—starker and more powerful, without the clichéd, florid language that characterizes the later adaptation.
The original text was in Inuktitut and used the syllabic script to tell a deeply moving story. What was the translation process like?
Inuktitut can be written in syllabics or in a Romanized script. Markoosie produced his 73-page manuscript in syllabics, but without inserting the diacritics necessary to fully understand how to read it. My colleague Marc-Antoine worked alongside the author painstakingly to establish the text, and clear up some phrases that were unclear. Marc-Antoine and I then rigorously translated the Inuktitut into English and French. It was very important to us to respect the content, style and tone of the original, to give readers (both Inuit and non-Inuit) a more direct access to the story Markoosie first wanted to tell, the one that he had originally written for Inuit readers. Because Marc-Antoine is based in Paris, our collaboration took place primarily over email, and took several years.
With this updated translation, what are you most excited about?
Sadly, Markoosie Patsauq passed away in March 2020. With this publication, we nonetheless hope to celebrate that very special man, to spark dialogue that can lead to mutual understanding, to reveal the impressive global impact that Markoosie had as both author and activist, as well as to encourage more people just to read a great story.
Hunter with Harpoon is available now (a trilingual edition complete with all the critical apparatus is also available).
Media: