Go back to news
Solid Start in 2013 for Men's Basketball
Posted on: Jan 14, 2013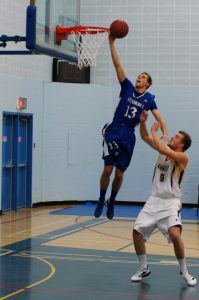 As the calendar switched to 2013, Thunder Men's Basketball has undergone some changes. Welcoming two new players – Andrew Youn and Chris Stoltz – to the roster and losing star forward Jamaal Bucknor to a ruptured Achilles tendon, a new look squad took to the court this past weekend against the King's Eagles. With foul trouble plaguing several starters the Thunder got key contributions from the bench, especially in the second half that carried the squad to a 73-55 win.
Saturday night, the Thunder came out gunning in the final frame, jumping out to an 11 point lead by the 6 minute mark of the quarter and held that margin until the end finishing with a 77-66 victory.
"Tonight we had great scoring balance," said Coach Wood. "We struggled early in this one, but once we started moving the ball with more efficiency and taking better shots we were able to have our best 3 point shooting night of the year."
The Thunder now prepares to take on the MacEwan Griffins this coming Friday at MacEwan and Saturday back at the Ralph King Athletic Centre. Both games are at 8pm.