Go back to news
Shorthanded Thunder Unable to Get One Against the Huskies
Posted on: Feb 16, 2016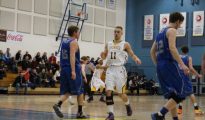 Heading into a do or die weekend against the Keyano Huskies, the Thunder Men's Basketball team were going to be in tough without starting point guard Artez Scharer and 5th year forward Nathaniel Wojcicki. Needing at least one win, the Thunder would have to muster one of their best efforts of the year. A slow start by both teams in Friday's opener would have the Thunder down 30-22 at the half. A poor 3rd quarter would find the Thunder down as much as 21 points but as the penultimate frame came to a close the Thunder would begin a 21-2 run, highlighted by five 3-pointers from Jason Jones Jr., that carried into the 4th and would bring the score to 52-50 with 6 minutes to play. Unable to get any closer than 2, the Thunder would end up dropping this one 71-62. Leaders for the Thunder were Jason Jones Jr. with 31 points, Brett Jakubec with 12 points, 7 rebounds and 3 assists, Mike Malin added 12 points as well to go along with 3 blocks. Adam Johnson added 5 points, 10 rebounds, 2 steals and 2 blocks.
Game two – facing playoff elimination – the Thunder would come out strong and hold a 22-16 lead after the first but end up down 39-35 at half. Cutting into the lead in the 3rd the Thunder would be down only two heading into the final quarter. Unfortunately the well would dry up as the Thunder missed some key shots and ended up on the short end again by a score of 75-65. Leaders for the Thunder were Jason Jones Jr. with 16 points, Brett Jakubec with 13 points, 10 rebounds and 6 assists, Ryan McLaren with 11 points and Mike Malin with 6 points, 9 rebounds, 4 assists and 4 blocks. "Keyano is a big, physical team who can defend well," said Coach Wood reflecting on the weekend. "We battled hard but came up short in some key areas that hurt us. We gave up a lot of second chance points because we didn't secure rebounds after getting stops. Keyano has good rebounders and we did not match them in this area. I thought some of our young guys came in and worked hard, but hopefully they saw that they have to continue to improve so that we can come out on top against good teams like Keyano."
The Thunder wrap up the 2015-16 season this weekend with a home and home series with the Augustana Vikings. Friday will go out in Camrose with the rematch Saturday at the RKAC. Saturday will also be Senior night for the Thunder where they will honour the departing Nathaniel Wojcicki and Ben Grimsrud. Come out and show your support for these tremendous players who have invested a combined 10 years in the Thunder Men's Basketball program. Both games tip off at 8 PM.