Go back to news
Sexual Violence Prevention & Bystander Intervention workshop
Posted on: Nov 22, 2019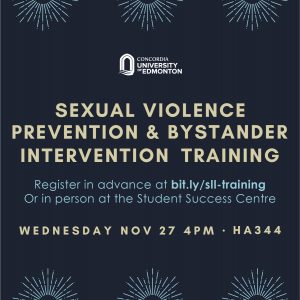 On Wednesday, November 27 at 4pm in HA344, we are hosting workshop for all students on the topic of sexual violence prevention and bystander intervention training.
Concordia University of Edmonton stands against sexual violence, and with survivors.
The goal of the Sexual Violence Prevention & Bystander Intervention workshop is to support students in developing a research and practice-informed view of what sexual violence is and the different ways it presents itself.
Additionally, we will be exploring the numerous ways students can choose to intervene in a sexual violence situation quickly AND safely. By creating a community of upstanders, we are working towards a sexual violence safer space at CUE.
All students are welcome to attend, and a certificate of completion will be provided afterwards.
Register now at bit.ly/sll-training