Go back to news
Sept. 30th – Orange Shirt Day
Posted on: Sep 23, 2019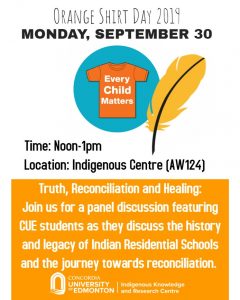 Orange Shirt Day is a nation-wide event that promotes the education and awareness of Indian Residential Schools in Canada. For over a century, Indigenous children were forcibly removed from their homes and placed into boarding schools that actively shamed Indigenous ways of being, including the prohibition of Indigenous languages. Since the Truth and Reconciliation Commission of Canada's hearing, survivors and their families have shared many testimonies of the physical, emotional, spiritual, mental and sexual harm they experienced. On September 30th, we encourage all Canadians to bring awareness to history and legacy of Residential Schools by wearing an orange shirt.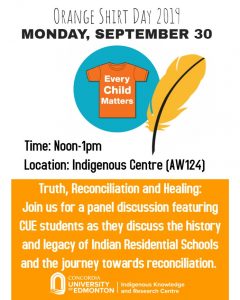 Orange shirts will be sold in the IKRC beginning tomorrow (Tuesday, September 24). Shirts will be 20$, cash only. Shirts will be sold by Rhonda Johnson who is fundraising for her mother who is a residential school survivor. 
To commemorate this day, we will be hosting a panel discussion in the IKRC (AW124) on September 30th at noon where we will discuss the history and legacy of Indian Residential Schools, healing and the journey towards reconciliation. We invite everyone to join us for this special gathering where we can continue the dialogue on truth seeking and reconciliation. 
Any questions can be directed to Danielle at danielle.powder@concordia.ab.ca.