Go back to news
Science of Global Warming and Climate Change – Why is it Important?
Posted on: Nov 15, 2022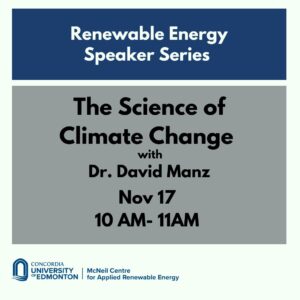 Human activities are causing climate changes which appear to be determining the biologic future of Earth. These attributions are possible because of the study of the science of climate change. It is possible to forecast the implications of future human activities on climate, the environment and nature, and develop strategies to avoid the most undesirable outcomes and develop adaptation strategies for those outcomes that cannot be avoided. Failure to respond in a timely fashion will result in the next great extinction of life the Earth, the Holocene or sixth extinction. This is a legacy the current generation does not want. The ability to limit the impacts of climate change requires the global community minimize and possibly eliminate the use of fossil fuels – replacing them with renewable energy sources and so stop the emission of greenhouse gasses and aerosols that are causing global warming and climate change. This endeavor comes at a cost that requires support from all citizens of the global community and is only possible if the citizens are informed.
Thursday, November 17 2022 10:00 am – 11:00 am
Speaker Information
David Manz has a Bachelor of Science in Agricultural Engineering and Master of Science, Hydrology from the College of Engineering, University of Saskatchewan and Doctor of Philosophy, Water Resources, Civil Engineering from the University of Alberta. He has more forty-five years of experience working as a water/wastewater treatment process design engineer, water resources management specialist, climate change specialist, water resources engineer, hydraulics and irrigation engineer with several years of experience as an educator and researcher in colleges and universities and as an engineering consultant and senior corporate and engineering manager. He is known for the development of the BioSand Water Filter that is used in millions of households worldwide and for large-scale versions that are used to treat surface and well water in communities in Western Canada. From 2007 to 2020 he offered a course on the science of global warming and climate change at the University of Calgary which evolved into the "Guide to the Science of Climate Change' that is published on the web. In 2018 David was inducted into the Alberta Order of Excellence for his development of the BioSand Water Filter which he has made freely available for distribution to the developing world and his contribution to education on the science of global warming and climate change. 
About the Speaker Series
McNeil Centre for Applied Renewable Energy (McNeil C.A.R.E) and the Concordia Alumni Association are proud to present the Renewable Energy Speaker Series. This speaker series aims to provide CUE members (students, alumni, staff and faculty) and the community in general with the opportunity to explore renewable energy solutions, learn about the challenges faced by the sustainable energy sector (industry, government and society), careers in the renewable energy sector and interact with experts from across Canada and beyond.
Contact
Please email us at mcneilcare@concordia.ab.ca with any questions.
Release Consent
Please note that the session will be recorded and posted on the BMO-CIAR website. By signing up for the event, you hereby consent and authorize the Concordia University of Edmonton to use your testimonials/comments and any photographs, video, or audio recordings taken of you for internal and external newsletters; news releases; journalist requests; and Concordia University of Edmonton promotional materials, including the World Wide Web, printed documents, audiotapes, videotapes, CD-ROMs, posters and in any and all other media, whether now known or hereafter existing, controlled by the Concordia University of Edmonton. You will make no monetary or other claims against the Concordia University of Edmonton for the use of the above-mentioned media.