Go back to news
New scholarship awarded to student with a passion for childhood education
Posted on: Nov 15, 2022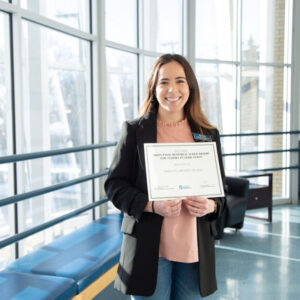 We are pleased to announce the winner of the Arun Passi Memorial Scholarship for Studies in Education. The family of Arun Passi, a CUE alumnus, started a legacy in his honor that will benefit students in the Bachelor of Education After Degree program.  
Adriana Benitez-Zelada is the worthy recipient of a generous gift of $5,000. Arun had a huge passion for teaching, and it's so fitting that Adriana receive this scholarship based on her shared passion for teaching. 
Adriana is excited to focus her efforts on early childhood education and says that kindergarten to grade two would be the "sweet spot" for her to teach.  She tells us her goal as a teacher is to "create a place where children look forward to going to school everyday – I want to make learning fun!" 
Because Adriana comes from a Spanish-speaking background, she also looks forward to being involved in a bilingual program. "Spanish is my family's language and my first language. I would love to be a part of the community and see the language grow," she explained.
Teaching has been a dream for Adriana's since she can remember. "I was always playing teacher with my siblings. I would get them to do colouring sheets, then I would check their work," she remembers fondly. Adriana's sister also graduated from the CUE education program, and she says, "I've always heard from her it's the best program for education. I did my undergrad at Concordia, so it was a natural path for me to stay here and enrol in this program."
Speaking about the classroom experience at CUE, Adriana says, "I love the quality of education, and I prefer the smaller class sizes. Someone always has your back in the classroom. If you're struggling with something, it's much easier to ask a question in a classroom of 30 students, than in an auditorium of 100 students, like the larger universities."
When Adriana found out she was the recipient of the Arun Passi scholarship, she was overjoyed. "It was a huge weight lifted off my shoulders. It will pay for a full semester of my education program."
Speaking to the donors, Adriana said, "I can't verbalize how grateful I am. I hope that what I bring as a teacher and the impact I make on my students will make them proud."