Go back to news
Scheherazade Enchants in CSO's A Thousand Veils
Posted on: Feb 25, 2020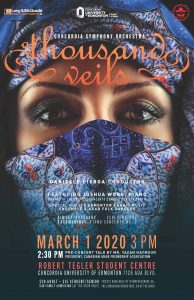 The Concordia Symphony Orchestra invites you into a whole new world with their next concert, A Thousand Veils (dir. Danielle Lisboa).
Sunday, March 1 in Tegler
2:30 pm talk on Arabic music & culture, & signing of an MOU with the Canadian Arab Friendship Association
3 pm concert
She is fearless, creative, smart, and seductive. Meet Scheherazade, the beloved heroine from One Thousand and One Nights, and her fascinating stories retold in music by Russian composer Rimsky-Korsakov. Scheherazade's beguiling storytelling, interweaving plots full of tension and suspense, would ultimately save her life from the sultan's wrath. The Edmonton Arabic Ensemble, featuring traditional instruments and Arabic folk dancers, will join us in this colourful journey to Middle Eastern lands.
The program concludes with Rachmaninov's Piano Concerto No. 2, starring sixteen-year-old Joshua Wong, winner of the Concordia Symphony Concerto Competition for Youth: 2019 Award for Piano.
The concert will be preceded by a signing ceremony of Memorandum of Understanding between CUE and the Canadian Arab Friendship Association (CAFA), and a talk on Arabic culture and education by Mr. Yazan Haymour, president of the CAFA, at 2:30 p.m.  
Free ticket for Concordia students, faculty, and staff available from Jennifer in Alumni Hall 306. Additional tickets ($20/$15) available from the Bookstore, Tix on the Square, or at the door. Special Family Admission: $40 (available at the door only).