Go back to news
Revealing our new intranet name
Posted on: Sep 26, 2022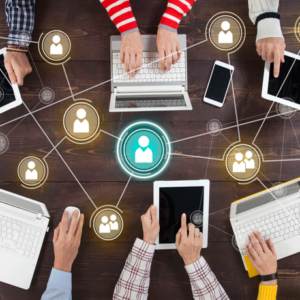 Thank you to participants from across CUE for submitting names for our new intranet! We were blown away with the creativity, and it was a difficult choice to decide among them all.
We selected a name that had the most submissions, and was a favorite among many. 
CUE Connect will be the name of our new intranet!
We feel the name CUE Connect exemplifies what the intranet is all about – a way of better connecting our CUE community. The intranet will improve awareness of what is happening in each department, and who everyone is – with an interactive org. chart. Everything you need throughout your work day, will be in one centralized place. 
Now that our name is official, we can take the next vital steps in branding and setting up the website to eventually go live in the coming months. 
Congratulations to Margie Schoepp (chosen randomly) who has won a CUE swag bag, thanks to her submission. Thank you again to all staff and faculty for help in naming this new information resource!
For more about what CUE Connect is, please refer to the Q and A below:
Q&A
Why is CUE getting a new intranet?
During feedback sessions of CUE employees in early 2022, staff and students were asked what they saw as the most important issues and concerns affecting the culture at CUE, and what opportunities they saw that CUE could take to improve staff and student experiences moving forward. 
One very important takeaway from employee feedback was the need to review the channels we use to communicate so that employees can have access to information quickly and effectively.
With this in mind, the important decision to take action on launching a new employee intranet was seen as a crucial step to improve communication, build employee engagement and enhance CUE's culture. This is a key initiative in the Reconnecting CUE action plan which you can read more about here. 
CUE Connect will streamline all sources of employee news and information and create an online employee-only hub. This will allow for curated information just for faculty and staff so they are first to know the important happenings around campus. 
What will happen to the Inside CUE section of the website?
Posts to the Inside CUE section of the website will be phased out. The current newsfeed will still be accessible and will be focused on stories for students and a broad external audience. Any tools and links from the website that are useful for the intranet will be moved to their new home, on CUE Connect. Instead of having multiple areas with employee information, we will move towards having a single site that is tailored to the needs of faculty and staff. 
When will the website be up and running?
We will be transferring data and completing site development in phases. Building on your feedback, site development has now begun and we will be consulting with content owners from departments across CUE. We will be testing CUE Connect before launch later this year. 
How will this benefit me?
Instead of having multiple locations to look for important information, you will now go to CUE Connect to access campus news, employee events, payroll information, benefits, and all other information tailored to your needs. CUE Connect will improve communication between departments, so that you can easily find employee contacts and collaborate on projects, therefore also improving business efficiency.
Do we need training?
The intranet was designed to be easy to use, therefore training will not be mandatory. Reference guides and training will be available for those who want a deeper understanding of CUE Connect's features. The Marketing and Communications department, as well as People and Culture, will be on hand to answer questions. As we get closer to CUE Connect's launch, we can provide a tour of important tools and applications within the intranet.