Go back to news
BuddyUP is back!
Posted on: Sep 26, 2022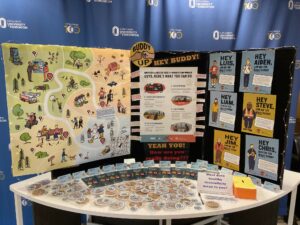 Stop by our engaging and informative BuddyUP display on men's suicide prevention in the front foyer of HAC and Ralph King which features information such as facts, mental health quotes from prominent male celebrities, and information on how to help a buddy. Take an air freshener, sticker, brochure, or enter our contest by answering the question "What does healthy masculinity mean to you?"
New to BuddyUP this year is a year round campaign which features 3 week long mini campaigns which highlight particular themes and activities where buddies can check in with one another while also attending to their physical and emotional wellness. For more info on the interactive campaign, click here! For some additional information on men's suicide, stop by one of our displays or check out this link.