Go back to news
Research Talk – Controlling COVID-19 in China: Crisis management one year "in"
Posted on: Mar 17, 2021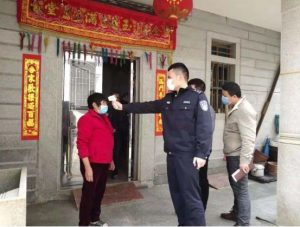 The COVID-19 pandemic has started new conversations about the future role of surveillance technologies in health crisis management. Situations of crisis are critical for organizations (in this case, a country). They either break down or reinvent themselves. In this talk, Ausma Bernot and Dr. Marcella Siqueira Cassiano will present their analysis of China's response to Covid-19 from three perspectives: social-political, technological, and psychological, based on the State Council policies, including guidelines from the National Health Commission.
Presenters:
Ausma Bernot is a PhD Candidate at Griffith University, the School of Criminology and Criminal Justice (Australia). She has seven years of work experience with forensic science and research organisations across the globe, in particular China. Her current research interests focus on the effects that the merging of infotech and biotech triggers in the fields of governance, surveillance, policing, and public safety.
Dr. Marcella Siqueira Cassiano holds a PhD in Sociology from the University of Alberta. She is a Lecturer in Sociology and Criminology at Concordia University of Edmonton, and a Postdoctoral Research Fellow at the Department of Sociology of the Memorial University of Newfoundland. She researches population governance issues in China and Canada.
Date: Friday, 19th March, 2021
Time: 4:00-5:00 pm
To join, please visit here.
For more information about Concordia University of Edmonton's Office of Extension, contact us at extension@concordia.ab.ca