Go back to news
Reminder: Innovation LaunchPad @ CUE kick-off
Posted on: Oct 3, 2019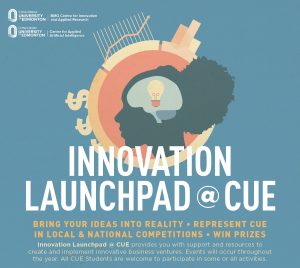 Date: Friday, October 4, 2019, 2:00pm – 5:30pm
Location: BMO-CIAR AW125
The agenda for the event is provided below:
2:00 – 2:30 pm: Doors open and Introduction to Innovation LaunchPad @ CUE
2:30 – 3:15 pm: Keynote: Innovation & Entrepreneurship; Speaker:Dr. Martin Ferguson Pell
3:15 – 3:30 pm: Welcome from CUE president
3:30 – 4:30 pm: Workshop on startup steps from Business Link AB
4:30 – 5:30 pm: Students sign up and networking
Students registering for the event will be entered into a draw to win cool CUE swag!
RSVP here!
Please contact Isha Katyal, Manager, CIAR at isha.katyal@concordia.ab.ca or Mike Wade, director, CAAI at mike.wade@concordia.ab.ca in case of questions.