Go back to news
Reminder: Elder Jerry Saddleback Teachings Tomorrow
Posted on: Nov 7, 2018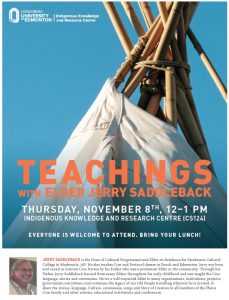 Reminder: Elder Jerry Saddleback visiting CUE tomorrow.
Everyone is welcome to bring their lunch and listen to the many teachings of Elder Jerry Saddleback. Elder Saddleback is from the Samson Cree Nation and brings with him a wealth of traditional knowledge which he has spent a great deal of his life learning and sharing. He is the Dean the Cultural Programs at Maskwacis Cultural College and travels across Canada and beyond to teach nehiyaw (Cree) worldviews and language. It is such a gift to have Jerry on our campus as he is well respected and sought after.
Session will be in the Indigenous Knowledge and Research Centre (CS124) from noon to 1pm to talk about the importance of language, oral history and how we transmit/pass down our knowledge systems.
We have around 40 seats in the Centre, so come early if possible! See you there!