Go back to news
Reminder: Deadline for Submitting Research Abstracts March 10
Posted on: Mar 8, 2017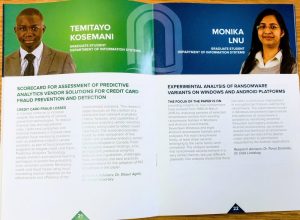 To all faculty and students,
A gentle reminder that our "Research Fair 2017" will happen on April 12, 2017, from 1:30 pm – 8:00 pm in Tegler and will be our second general (annual) research celebration. The academic leadership is looking for a better name of this celebration, which will be announced next week.
The deadline for sending in abstracts to Zuzana (see previous emails) is Friday March 10, 2017!  We will need from each researcher a max 250 words abstract of the research and its title. Please note: this is a hard deadline.  The date will not be moved again, in order to provide enough time to produce the booklet and appropriate materials in time for the "fair". 
The pictures here show you the 2016 booklet. Both your photo and abstract will be published. Tom Corcoran in Marketing will be taking all photographs on March 13th, from noon to 3:00 pm in the Marketing office, room S204.  Please have your photo taken between the times stated.  There is no need to book an appointment.  
We look very much forward to experience this big celebration of Concordia's

research

!