Go back to news
Registration extended for Digital Skills courses
Posted on: Jun 5, 2020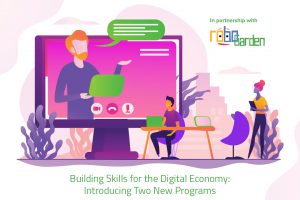 We're pleased to announce that the registration deadline has been extended for the Full Stack Development Bootcamp and Machine Learning and Artificial Intelligence Bootcamp to provide interested students, including our global partners, the opportunity to enroll. Registration is now open for both domestic and international students, and will remain open until Wednesday, October 14th, 2020.
No previous technical or coding experience is required! Add these practical skills to your resume, and gain another advantage in the digital economy. Can't decide which course to take? Our quiz will help match the best course for your interests. Try it out at cuedmonton.robogarden.ca.
Both programs will start on Wednesday, October 14th, 2020. 
Program support is available in English, Chinese, and Arabic.
Learn more about the courses in this video and our FAQs.
CUE's Office of Extension and Culture is committed to offering the best quality courses and programs to ensure our students' success.