Go back to news
TODAY! 4th Annual CUE Research Forum
Posted on: Apr 16, 2019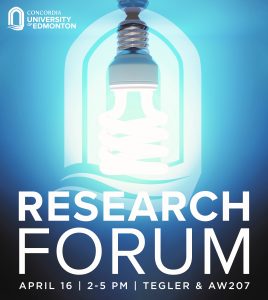 4th Annual CUE Research Forum 2019
This research poster exhibition showcases and celebrates the exciting accomplishments of our students and faculty in advancing research and innovation across all disciplines.
Date and Time: Tuesday April 16th, 2019 | 2:00 pm – 5:00 pm
Location: Tegler Centre and Design Thinking Space

New this year
For the 4th Annual CUE Research Forum, we will hold a Poster Competition. Poster presentations will be judged by a panel of members of the CUE and winners will be invited to present their posters at the Design Thinking Space. The Academic Community at CUE is proud to show its support for our students. Undergraduate Student presentations will take place in the Tegler Student Space, while Graduate Student and Faculty Member presentations, will be held at the Design Thinking Space, located in the second floor of the Allan Wachowich Centre.
Abstract Book
The 2019 Welcome Program and Abstract Book are now available online in our website.
About the Research Forum
This annual poster exhibition is organized by the Office of Research Services and provides an opportunity for CUE faculty and student researchers to present their work and exchange research ideas and results with the broader university community, as well as industry professionals, and guests.
This is an "open-house" style event. Refreshments will be served and there will plenty of time to meet and engage with guests and presenters. This year, the Research Forum coincides with the Concordia University of Edmonton Graduate Student Open House!
If you have any questions about the event, please contact research@concordia.ab.ca.