Go back to news
'Positive Results' the Theme for Thunder Women's Soccer Kickoff Weekend
Posted on: Sep 12, 2016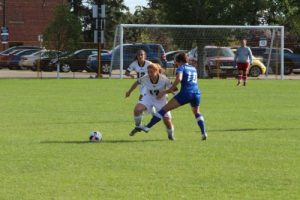 In front of a large, enthusiastic home crowd Friday afternoon, the Concordia Thunder Women's Soccer team opened their ACAC regular season with a 2-0 victory over the visiting Eagles of King's University. Jaida Stasiuk scored a goal in each half in the 32nd and 82nd minutes, respectively, to secure the victory.  The latter goal was a pile up in front of the Eagles goal line which saw a number of Concordia players crashing the area to ensure the ball entered the back of the net.  Concordia's commitment to its defensive play diffused any offensive opportunities from the visitors.   The Thunder's central defender Nicole Klepic earned Player of the Game honours and Kathleen Lang earned the clean sheet in goal.
On Sunday, Concordia hosted their crosstown rivals, the NAIT Ooks, a team against whom the Thunder have struggled to earn a result of any kind over the last several years. On this day it would be different.  The game was played on a rainy and windy day that saw both teams motivated to play.  The Thunder demonstrated a continuous attack throughout much of the first half and were rewarded midway through.  Central midfielder and Player of the Game Kaitlyn Diduck played a brilliant through ball to forward Shyanne Walton who broke through the NAIT's back line to earn her first goal of the season.  Concordia had several chances to score, but were unfortunate at times.  Late in the first half Concordia attempted to clear the ball from deep in their zone and unfortunately, the shot was deflected off a NAIT player into the back of the net to tie the match 1-1.  The second half saw chances from both sides but no goals were scored and as a result, Concordia earned its first point off NAIT in over three years.  Although the weather was cold the temperature on the pitch was heated.  The game saw 22 fouls and four yellow cards.   The rematch is scheduled for October 15th at NAIT.  It may be colder for the second match, but the intensity will certainly be heated.
The next action for the Thunder will see them take the long trek north up to Grande Prairie for a pair of games against the GPRC Wolves on Saturday, September 17th and Sunday, the 18th.