Go back to news
Today – For the Love of the World: Saving the West
Posted on: Oct 3, 2017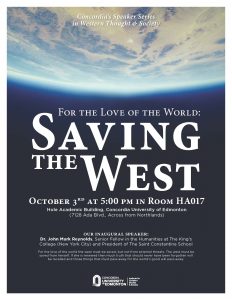 For the love of the world the west must be saved, but not from external threats. The west must be saved from herself. If she is renewed then much truth that should never have been forgotten will be recalled and those things that must pass for the world's good will pass away.
Come and hear Dr. John Mark Reynolds present:
Event: For the Love of the World: Saving the West
When: October 3rd, 2017 at 5:00 p.m.
Where: Room HA017
Speaker Series in Western Thought & Society is presented by The Institute for Christian Studies & Society.
Dr. John Mark Reynolds is a Senior Fellow in the Humanities at The King's College (New York City) and President of The Saint Constantine School.