Go back to news
Inclusion Alberta Fundraising Breakfast: RSVP by Thursday, October 5
Posted on: Oct 3, 2017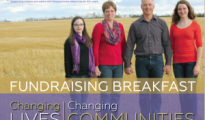 On behalf of Inclusion Alberta, you are invited to attend our annual Changing Lives, Changing Communities Fundraising Breakfast. By attending this event, you will have the opportunity to hear from families whose lives have been dramatically enhanced through the work of Inclusion Alberta.
Your support helps us Change Lives and Change Communities
Join Inclusion Alberta on Tuesday, October 17 at 7:30 a.m. to 8:30 a.m. at Westin Hotel.
Please RSVP to Colin Saby at colin.saby@concordia.ab.ca by Thursday, October 5.