Go back to news
New lab-based cannabis course being offered this fall through the Office of Extension and Culture in partnership with NorQuest College
Posted on: May 31, 2021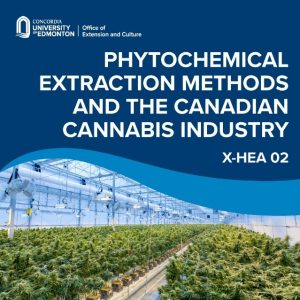 Concordia University of Edmonton (CUE) is excited to announce a new lab-based cannabis course will be offered this fall in partnership with NorQuest College. The course, Phytochemical Extraction Methods and the Canadian Cannabis Industry, will be offered through CUE's Office of Extension and Culture.
"We recognize the COVID-19 pandemic has created economic uncertainty and, in many cases, led to changes in jobs and career pathways," said Dr. Xinxin Fang, Director of the Office of Extension and Culture. "This new course will create a strong foundation for students looking to work in cannabis extraction and the growing cannabis industry."
Students will gain skills and knowledge in the areas of micro-testing, cannabis testing, material-handling, quality control, and extraction facilitation, and will learn how to operate equipment and work in an extraction environment. This knowledge is applicable across the cannabis industry, and also in other production areas using phytochemical extraction, like natural food product and hand sanitizer production.
"Learners come to our institutions because they know they will graduate prepared to thrive in the growing cannabis industry," said Michele Braun, Director of Continuing Education and Partner Solutions at NorQuest College. "This partnership between CUE and NorQuest increases the options available to learners and grows the talent pool for the cannabis industry. Simply put, we have now developed the foundation for the next phase of growth in the industry."
The course is lab-based, meaning students will spent their time gaining hands-on experience. Instead of using cannabis, students will use tomato plants, as cannabis plants use the same extraction procedures as tomatoes. This course exposes students to three extraction methodologies: hydrocarbon extraction, Co2 extraction and ethanol extraction. Students will see that with basic, simple equipment they can extract phytochemicals from plants.
The course begins on October 2, 2021 and registration is now open. The deadline to register is June 30, 2021. For more information and to register click here or contact extension@concordia.ab.ca.
About Concordia University of Edmonton 
Concordia University of Edmonton is Canada's pre-eminent small university, offering over 45 majors and minors in the fields of arts, science, and management, as well as two after-degree programs, several master's degrees, several graduate certificates and diplomas, and a doctorate in clinical psychology. In and out of our classrooms and lecture halls, we translate what we learn into extraordinary hands-on experiences. Our ultimate goal has not changed since 1921: to be more than students and professors, to create a community of active citizens, of good and honourable people. For more information, visit www.concordia.ab.ca.