Go back to news
New faculty Collective Agreement signed
Posted on: Apr 21, 2017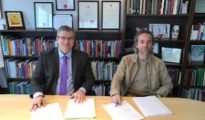 This morning Mr. Mike Wade, Chair of Concordia University of Edmonton's Board of Governors, and Dr. Dale Lindskog, President of the CUE Faculty Association, signed a new faculty Collective Agreement on behalf of the Association and the Board. The Agreement is retroactive to July 1, 2016, and will remain in place until June 30, 2021.
This agreement was carefully negotiated in a collegial manner over a period of 16 months. Amongst other things it includes provisions for salary increases, a re-structuring of the salary grid, a system of permanence based on advancement in rank, reduced periods of service for sabbatical eligibility, increased opportunities for workload redistribution in recognition of research activities, and it formalizes the terms and conditions of employment for Academic Service Officers.
The Faculty Association and Concordia's Board of Governors view this as a mutually beneficial, fair, and reasonable agreement that will provide a positive employment context for faculty, while at the same time helping to move our institution forward. The Association, the Board, and Concordia's administration look forward to continued collegial work together as we implement and monitor our new agreement.