Go back to news
Mental Health in a Post-Secondary Setting: Dr. Brent Bradford – Twitter Chat Tonight (January 29, 2018)
Posted on: Jan 29, 2018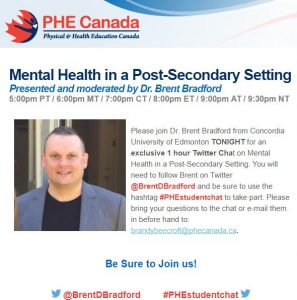 The Interdisciplinary Research Cluster On Wellness presents: Mental Health in a Post-Secondary Setting, an exclusive one-hour Twitter Chat with CUE's Dr. Brent Bradford. Join us tonight, January 29, 2018 at 6:00pm to 7:00pm.
To participate, you will need to follow Brent on Twitter @BrentDBradford. Be sure to use the hashtag #PHEstudentchat and bring your questions to the chat! You can also email them to randybeecroft@phecanada.ca in advance.
The Interdisciplinary Research Cluster On Wellness is a group of scholars united in exploring issues related to wellness. We understand "wellness" to have several dimensions including physical activity, physical literacy, healthy eating, and dealing with stressors positively. We also examine mental health, comprehensive health programming, financial issues, social decisions, and other wellness topics. We share research and collaborate on projects. Members represent many fields and institutions, providing a diversity of approaches and topics.
Physical & Health Education Canada is the national professional organization for physical and health educators. Members are educators working in the school system and university professors engaged in research and training in physical and health education. PHE Canada is a member of the Interdisciplinary Research Cluster On Wellness.