Go back to news
Meet the student movement coach of play, Everyman
Posted on: Mar 14, 2023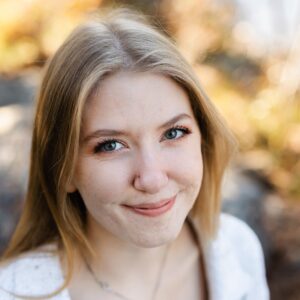 As the opening scene of Everyman opens, we already know we are in for a great show. The well built set and first monologue takes you in immediately. The rest of the production's cast capture the audience with not only outstanding acting and energy, but also with their carefully choreographed movements on the stage. 
Daelyn Myggland has been a dancer for as long as she can remember, "really since I could walk," she says. She has taken on being a movement coach for the actors of Everyman as her capstone project, and she is very passionate about what she does.
"Expressing myself with movement was always super important to me. I started off doing cardio and working with Glenda Sterling, she eventually opened doors for me and I jumped at the chance to work as a movement coach."
Daelyn said at first it was challenging to make the jump from being a dancer to being a movement coach. "As a dancer, I was always working with just dancers, so I had to get comfortable with helping others move in ways they weren't used to doing."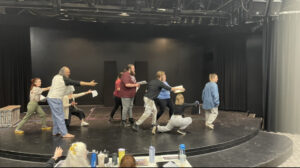 For the actors who work with Daelyn they were excited to see that their Everyman characters come more alive through movement.
"All their gestures in this play had to be so much bigger. I would tell the actors, bigger is better – give as much as you can. I also tell the actors it's okay to be silly and experiment by breaking boundaries." – Daelyn
For many people who are used to working alone, working in a group is where they also find a new rhythm of movement. "We are always exploring the way we move with others versus the way we move with ourselves. For example in Everyman, Death would touch you and you would have to melt from wherever you were touched. It involved experimenting – and in the end these little touches are making it such a unique production."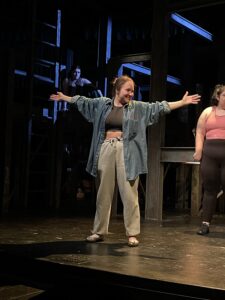 For the drama program at CUE, capstone projects could involve anything from writing a screenplay or making a production. Daelyn will be presenting her learnings at the Fine Arts Festival in April along with other students presenting their final projects. When asked what has been the most important learning in the past year, Daelyn says:
"I've learned that everyone has an amazing potential to be an expressive mover, no matter what they think their limitations might be. Everyone is unique in how they move – each mind will interpret a character in their own way."
Advice Daelyn would give to actors is "be very open minded – Just be open to the subtleties of movement, gestures can move a story just as much as the dialogue."
For Daelyn she has been excited to see the end results of the hard work put into rehearsals, and see her team perform in front of an audience. "It's been awesome to see the cast get to know each other better – and build trust in one another. I have seen them grow from being nervous to being fully confident."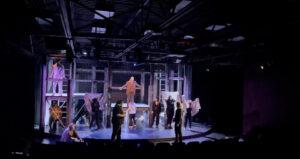 She says even behind the scenes people can be nervous before a production, "It can be tense to see if everything translates the way you hoped. Tech people might be concerned about missing a lighting or sound cue. We are all preparing to make sure everything goes smoothly."
Speaking about why she chose CUE, Daelyn said, "I was accepted at other universities and chose Concordia because of the smaller class sizes – because of that, I have built very strong connections with my professors, which I don't think I would have had at a larger school."
Those close relationships are also why she refers to the drama program faculty as mentors.  
 "Both Glenda and Caroline have been amazing mentors. They never tell us what to do, but they give us the right amount of guidance and let us find our own way," Daelyn says.