Go back to news
Finding Pride on Campus
Posted on: Mar 14, 2023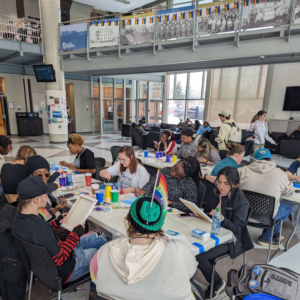 The students at CUE had a very successful Pride week, but there is still a lot of progress to be made to establish what the CUE Pride Association wants to achieve. As first time president of the club, Alyse says she hopes to build a community that ensures that the diversity of sexual orientation and gender identity expression is visible and celebrated.
With five executive members, they have between 25 and 30 members – and the group is growing. Alyse says that consistency is the key to growing a successful club. "I try to make the times for people to get together as convenient as possible – Students have busy lives, so we find Friday usually works. We meet every second week for fun games, and other activities."
For many students who come from a small town, like Alyse – who grew up in Devon, Alberta – this is often the first time they can find a community that is a "safe space" to be themselves. Although Alyse had one outstanding teacher in high school that was a great support and advocate for her, she said clubs like the Concordia Pride Association are needed so students can have a sense of acceptance and belonging.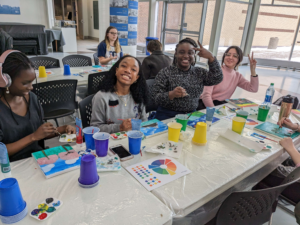 Speaking about the lack of understanding and diversity in her small town, she said, "I grew up in a heavily Christian school – there was a lot of religion but not enough education and not everyone was open to people who fit outside the norm." Alyse also speaks about the struggles working in a male blue collar environment, "I tried to work as a mechanic because that is what I always wanted to do, and I was judged just being a women, never mind a gay women – that made it all the more challenging to be accepted."
The reason clubs like this are needed is there is still so much more community building and advocacy to be done at the university and beyond our campus.
"A lot of people will come up to me and say, 'oh you're so lucky that being gay is accepted now', and I don't think people understand that gay men are still being shot and killed just for being gay. They're banning drag shows in the U.S. still, this is an ongoing battle – we're fighting so hard to have acceptance." – Alyse
Alyse says she wants people to know Pride is not just for the queer community it's for everybody. "We have a lot of allies come to our meet-ups – having them join in our groups is just as important, and we invite anyone to come chat with us, no matter how you identify."
It's also important for people to know that it's really not anyone's business what you identify as, says Alyse. "You could be gay and not announce it to anyone. If I choose to come out and tell people 'Hey, I'm married' that's my prerogative. Or if I know my friend is gay. It's not my right to drag them out of the closet – that's dangerous for them, you never know their situation and you have to respect their decision."
One of the most important things about the Pride Association is the idea of creating a welcoming space – that focuses on community building, and second to that is education and advocacy. "Our events are about having fun – it's a relaxed environment to play games, one time we did a colouring and pajama party, and I gave out brochures so if someone doesn't feel comfortable asking questions, it's all here for them to get more information."
Alyse says they meet up both in-person and online. "We're really just building the foundations of this club," she says. "It's been fun just to have conversations – we're about breaking down barriers. I want this to be a place where, if you're having a hard time, you can come here to chat about it."
According to Stats Canada, even before the pandemic, the LGBTQIA2S+ community had a disproportionately higher mental health problems, and are at greater risk of being abused and discriminated against. Because of this they are at higher risk for depression, suicide, substance use and anxiety. 
"The Pride Association for me is a place where we can safely talk and share our stories. I have been through therapy, but there is also something powerful about sharing your experiences with others, including for example your coming out story. Sharing our experiences normalizes them," Alyse explains.
A lot of what Alyse and her executive are doing is trying to build momentum. Some events are being formed from scratch. This year they had a wildly successful bake sale and the funds from that helped them buy T-shirts. "In the future I hope to get everyone making their own tie-dye shirts!"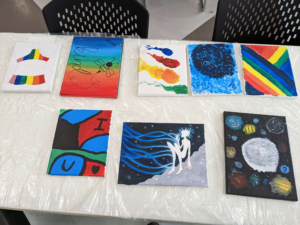 There is a lot of social solidarity amongst the Northside Pride organization, a collection of post-secondary education institutions in the city, including CUE.  "Some universities are doing a great job creating a community, and we hope to become more established as well in the year ahead. We have a few social media accounts – Discord and Instagram – and we're gaining visibility, but we want to do so much more. We are fumbling, and making mistakes as a new club, but learning along the way."
Alyse is also working towards intersectional inclusion at CUE and says, "Ultimately, we are trying to build community not just for LGBTQIA2S+ students, but for people from all identities and backgrounds across CUE, and a place where everyone feels included."