Go back to news
Lunch and Learn Seminar #4 -Time is Running Out to Register
Posted on: Apr 4, 2017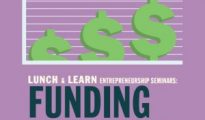 Do you have an idea for a business? Have you always pictured yourself as an entrepreneur and business owner? Are you interested in learning about options to fund a start-up business?
If you said yes to any of those questions then this seminar is for you!
Dr. Randy Yatscoff, Executive VP of Business Development with TEC Edmonton and recent winner of the Startup Canada National Lifetime Achievement award for entrepreneurship development, will provide an introduction to the options to fund a start-up business and the steps required to get a start-up business operational.
Sponsored by the CIAR, the Lunch and Learn seminar will be held on April 12th, 2017 from 12 pm to 1:00 pm in room G303.
To register, just follow this link research.concordia.ab.ca/ciar-seminars or send a confirmation email to ciar@concordia.ab.ca.
Lunch will be provided!
We look forward to seeing you there.