Go back to news
Lunch and Learn Seminar #3 -Creating a Business Model
Posted on: Feb 21, 2017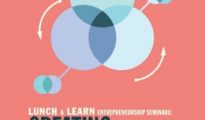 Do you have an idea for a business? Have you always pictured yourself as an entrepreneur and business owner? Are you interested in learning about how to create a business model that works?
If you said yes to any of those questions then this seminar is for you!
Mr. Tom Ogaranko, a serial entrepreneur and seasoned technology executive with experience in several IT, Medtech and business service startups, will provide an introduction on how to create a business model designed to support your business idea.
Learn how to:
•    develop a business model that works,
•    protect your idea, and
•    create a functional business plan.
Sponsored by the CIAR, the Lunch and Learn seminar will be held on March 8th, 2017 from 12 pm to 1:00 pm in room G303.
Everyone from the CUE community is invited to attend but please register for the seminar.
To register, just follow this link research.concordia.ab.ca/ciar-seminars or send a confirmation email to ciar@concordia.ab.ca.
Lunch will be provided!