Go back to news
Living a Good Life – Mak Hakim shares his thoughts on happiness, success and community
Posted on: Sep 10, 2012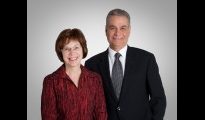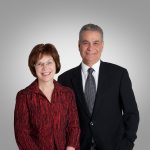 Engineers build the infrastructure that powers our world. Small business owners build our local economy, creating opportunities to grow. When Mak Hakim sold local powerhouse consulting firm Sinai Engineering and retired a year later in 2010, he and wife Joyce had some time to slow things down and contemplate the community that helped them build a happy life.
As a long-time corporate supporter of Concordia through his engineering firm, Mak could have powered down the relationship and moved on. Instead the Hakims chose to amp up their personal commitment, creating two new scholarships and providing support for operations to, as Mak shares with a wink, "keep the fires burning."
Spending just a few minutes with the modest yet charismatic Mak Hakim is enough to see he has no problem keeping his own fire burning. From his birthplace in Alexandria, Egypt to stops in Calgary, and Toronto before planting deep roots in Edmonton, Mak has carried a torch that burns the same colour as Concordia's flame. Although he is not a religious man and had no prior exposure to Concordia, attending the Grande Masque Gala in 2005 was like love at first sight.
"I felt an instant connection with the way the students and faculty conducted themselves," Mak explains, "There was a sense of pride and an aura of sincerity about the experience that quickly transformed into a desire to support the institution as much as I could."
That support has now extended to two new annual scholarships; one in science and the other in the vocal or performing arts. Whereas some institutions would see these donations hitting opposite ends of a spectrum, what Mak loves about Concordia is that science students and musicians aren't separated by ivory towers, but rather brought together in a common quest to satisfy their understanding of what it means to be alive in the world.
"As an engineer I obviously have a biased appreciation of how science improves our lives, but can you imagine a world without Beethoven, Puccini or B.B. King? Listening to music is like eating good food," Mak declares as he describes the chemistry of curiosity, "It's about richness, flavour and depth."
Mak and Joyce see a reflection of those values and that depth in the hallways and classrooms of Concordia, and having grown up with limited means, Mak doesn't tolerate the notion that someone with the ambition and talent to excel in University should miss the chance because of financial barriers.
"I've seen both sides of the story. I grew up not that well-off but my parents valued education. My father was a social worker and a teacher. When you get something unexpected it ignites your passion and excitement. My education created an opportunity for freedom."