Go back to news
Lieutenant Governor visits Concordia to present award
Posted on: May 31, 2017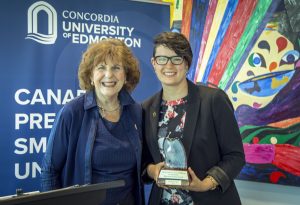 Yesterday, Concordia University of Edmonton was privileged to host Her Honour, the Honourable Lois E. Mitchell, CM, AOE, LLD, Lieutenant Governor of Alberta and her husband, His Honour, HCol. Doug Mitchell, at a private gathering to present the 2017 Lieutenant Governor of Alberta Social Studies Education Student Award to Caitlin Krieger, graduate of our Faculty of Education.
The award is a part of the Lieutenant Governor's legacy initiative, History and Heroes of Alberta, which aims to foster greater understanding and appreciation for Alberta's past in order to shape the future, beginning in the classroom.
Caitlin Krieger, Maya Bitar and Scott Shpeley were each congratulated by Her Honour for their outstanding and inspiring presentations, noting that each did a fabulous job and the judges had a very difficult time in their selection. Maya and Scott were presented with the Lieutenant Governor of Alberta's special coins.
President Tim Loreman celebrated our award winners explaining to Their Honours that these students "are representative of the high quality of graduates produced here at Concordia both in our Education program and across the institution generally." He also thanked the Lieutenant Governor for her leadership in raising the bar for students, prompting engagement and recognizing their accomplishments.
Their Honours' visit concluded with a tour of Concordia's campus.