Go back to news
Learn about Ransomeware's evolution and future trends – Nov 4
Posted on: Oct 29, 2021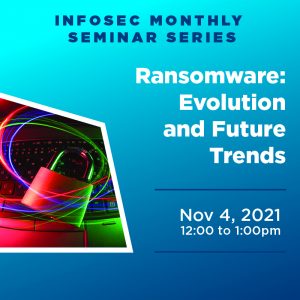 The Information Systems Security and Assurance Management (ISSAM) Department in Mihalcheon School of Management proudly invites you to the monthly InfoSec Seminar. The seminar series will be open to anyone who is interested in security research and technologies, not only to Concordia University of Edmonton (CUE) members.
Ransomware: Evolution and Future Trends
The past few years have seen an exponential growth in the number of Ransomware attacks as well as multiple high-profile incidents with record-breaking ransom demands. In this seminar, we will examine the evolution of Ransomware, some of the technical factors that have enabled the surge in the frequency and number of Ransomware attacks, as well as some future trends that we expect to see in this space.
See you there!
Date: Thursday November 4, 2021
Time: 12:00 – 1:00 pm MST
Meeting Link: https://meet.google.com/tvr-wixk-umg
About the Speaker
Rasha Nasra, EdD, Canadian Centre for Cyber Security, Academic Sector Lead
Rasha Nasra leads the Canadian Centre for Cyber Security's cyber engagements and partnerships for the Academic Sector. Rasha previously held different roles at the Cyber Centre including Lead for one of the centre's Strategic Cyber Threat Assessments teams. Rasha holds a doctoral degree in Educational Leadership from Western University and a Masters degree in Educational Technology from Concordia University.
Contact
If you have any questions regrading this seminar series, please do not hesitate to email Shawn Thompson or Eslam G. AbdAllah, MISSM, Faculty of Management.