Go back to news
Learn About Alberta's Coal Phase Out
Posted on: Feb 8, 2021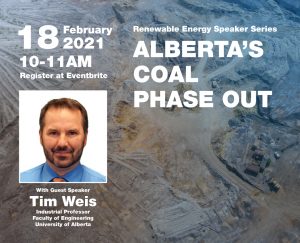 Part of the Renewable Energy Speaker Series, with experts ranging from industry, academia, and government.
A Historical and Rapid Change in Alberta's Electricity Market
Alberta's electricity market is undergoing an historic change as coal plunges from 70% market share in 2014 to zero within a decade. Tim Weis, Industrial Professor in Mechanical Engineering at the University of Alberta, will discuss what policies and political events occurred for this rapid change, what role renewable electricity may play in Alberta's future and what it means for Canada's electricity system overall.
Register to attend
Eventbrite – Thursday, February 18, 10:00 am – 11:00 am
About the Speaker
Tim Weis
Industrial Professor, Faculty of Engineering – Mechanical Engineering Dept, University of Alberta
Tim Weis has been at the University of Alberta since 2017. His work has focused on renewable energy development in Canada with a particular interest in wind energy as well as remote community wind-diesel hybrid applications. Prior to joining the University of Alberta, he spent much of his career focused on the interactions of technology, policy and business for renewable energy, including working for the Pembina Institute, the Canadian Wind Energy Association and the Government of Alberta. His research through the Centre for Applied Business Research in Energy and the Environment (CABREE) in the School of Business focuses on the evolution of Alberta's electricity market as it transitions off of coal to an increasing role for renewable energy.
About the Speaker Series
McNeil Centre for Applied Renewable Energy (McNeil C.A.R.E) and the Concordia Alumni Association are proud to present the Renewable Energy Speaker Series. This speaker series aims to provide CUE members (students, alumni, staff and faculty) and the community in general with the opportunity to explore renewable energy solutions, learn about the challenges faced by the sustainable energy sector (industry, government and society), careers in the renewable energy sector and interact with experts from across Canada and beyond.
Contact
Please email Dr. Isha Katyal, Director, Innovation and Industry with any questions.