Go back to news
Last chance to register for Monday's new workshop for all CUE employees!
Posted on: Oct 21, 2021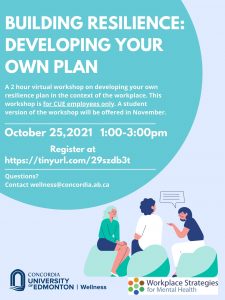 Building Resilience is a 2 hour virtual workshop on developing your own resilience plan in the context of the workplace. This workshop is geared to CUE employees. A student version of the workshop will be offered in November.
Date:
October 25, 2021
1:00-3:00pm
Questions? Contact wellness@concordia.ab.ca