Go back to news
It's not too late to register for the Wellness Challenge!
Posted on: Jul 7, 2020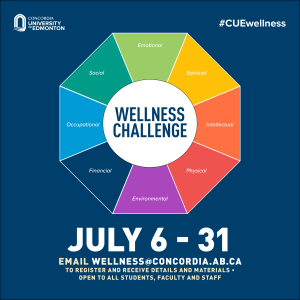 Looking to try new things or get out of a routine rut?  Why not join the July Wellness Challenge? Challenge runs from July 6th-31st. To register, complete the registration form and email it to wellness@concordia.ab.ca
The challenge is FREE and open to students, faculty, staff and family members.  Challenge your friends, colleagues and family members to improve their wellness this July! Register today!
More details about how the challenge works can be found here.
Questions?  Contact CUE Wellness at nicole.houghtaling@concordia.ab.ca