Go back to news
It's Procrastination Awareness Week and It's Not too Late to Participate
Posted on: Mar 7, 2022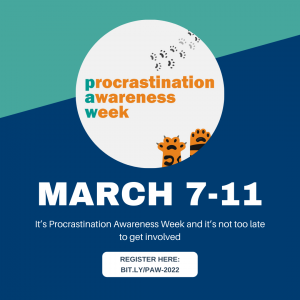 Procrastination Awareness Week (PAW) activities kick-off at 11am today! It's not too late to join; register at bit.ly/PAW-2022.
Learn more about procrastination, develop effective habits, connect with like-minded students, make progress on your end-of-term to-do lists, and get in some serious studying.
Programming runs daily from 11am to 3pm, March 7 to 11. All events are free, open, virtual, and inclusive. 
PAW is an Learning Specialists Association of Canada (LSAC) sponsored event.