Go back to news
Invitation to Graduation Ceremony of CNU (China) students
Posted on: Aug 24, 2017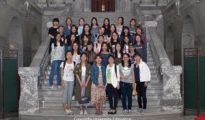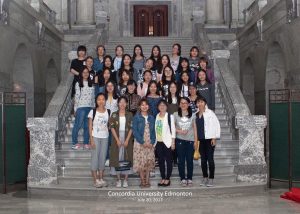 The 8 week CNU Undergraduate Study Abroad Program is going to conclude next week. It is now time for the CNU (Capital Normal University, Beijing, China) students to reflect on their accomplishments, celebrate the goals they have achieved, and value the friendships they have made! It is time to thank those who believed in them and helped them overcome culture shock and obstacles during their study abroad period.
You are cordially invited to the completion ceremony for the CNU Undergraduate Study Abroad Program, held in the Huehn Theatre from 

2:30-4:30 pm

 on 

Tuesday August 29

, followed by a reception.
Here is the agenda for the completion ceremony.
2:30 – 2.35  Introduction of CNU Undergraduate Study Abroad Program
                    —-Dr. Manfred Zeuch, VP International and Research
2:35 – 2:38 Greetings from President and Vice Chancellor —- Dr. Tim Loreman
2:38 — 2:40 Greetings from Dean of Arts —- Dr. Neil Querengesser 
2.40 – 2.45  Remarks from Instructors Representative – Ms. Erinn Jacula
2:45 – 2:50  CNU Student Representative Speech – Xinyan Li
2:50 – 2:55  CUE Student Representative Speech– Tracey Bidne
2:55 – 3:20  Certificates Distribution
3:20 – 3:25  Awards for Best performance, Most helpful, Most engaged Students
3:25 – 3:30  Remarks from CNU program supervisor—- Dr. Li Liu
3:30 – 3:40 Students presentation, produced by Mengjie Xia, Yu Yao
3:40 – 4:10 Students Performances
          Dance – Spring Sprouts
   Bohan Feng, Yue Du, Yanqi Li, Yueying Yu, with Accompaniment by Xinyan Li
          Chorus — Red River Valley
   20 CNU students with Accompaniment by Ting Zhang
           Chorus — Beijing Welcomes You, 36 CNU students
4:10 – 5:00 Reception
We look forward to see you there!
The Centre for Chinese Students
Concordia University of Edmonton – Building Bridges