Go back to news
Invitation to all for our first "Café Terrasse"
Posted on: Sep 30, 2016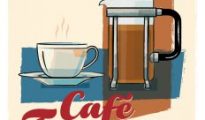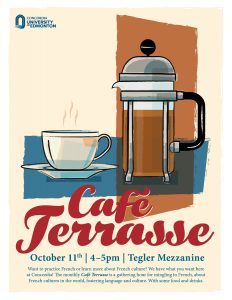 All students, staff and faculty who speak French, who love French, who would like to learn French, who would like to practice and perfection their French, are invited to our first monthly gathering called Café Terrasse. (reference to the typical French Cafes with tables on sidewalks.).
Our fist Café Terrasse will be on Tuesday October 11, 4pm – 5pm, at the Tegler Mezzanine, and will be a little hour (or for how long you wish to stay) of informal chatting (in French) for which we will have a main common theme each time. We will suggest a first main theme: "Le fromage et le vin" (the cheese and the wine). With themes pre-announced each time, you may research vocabulary and information about the subject to help in our conversation. We also will have some coffee and refreshments.
This is a joint initiative from the International Office and our French program, with our new colleague from Alsace, France (hint for your theme research here!) Dr. Joanna Merkel.
Merci, et à bientôt ! Bienvenu/e/s !